The "Lot Details" section of the lot page will disclose all the information we have on a vehicle.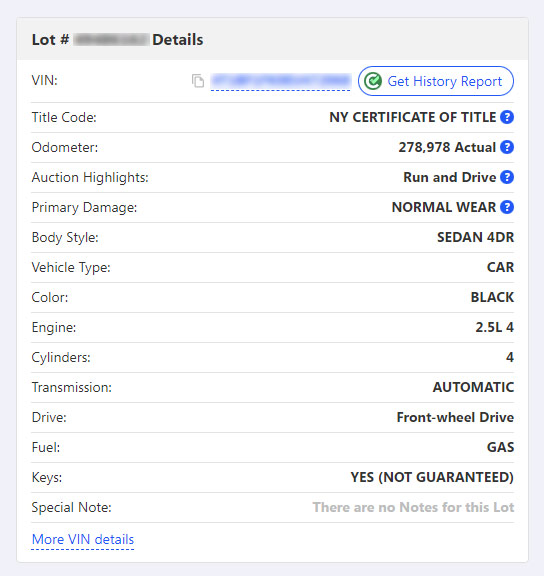 We encourage all potential bidders to learn as much about the vehicle as possible. Members should do their research prior to bidding. Below is a list of tools any member can use to inspect a vehicle before choosing to bid:
AutoBidMaster has partnered with ClearVin to provide easy to understand vehicle history reports for any vehicle. Look for the "Get History Report" button next to the VIN on any lot page.
Members can visit any Copart facility in the US or Canada. Vehicle inspection is available until one hour before Live Bidding starts. Items you will need for entry:
Valid government photo ID
AutoBidMaster Bidder # (Advance and Premium Memberships only)
AutoBidMaster Account Login & Password
Entrance Fee - $25 standard fee
Hire a 3rd party inspector to perform the inspection.
Any information regarding this vehicle is provided by the seller or Copart and is for convenience only. AutoBidMaster expressly disclaims the accuracy of the vehicle information on this page including damage details, odometer readings and vehicle identification numbers (VIN).