AutoBidMaster has shipped hundreds of thousands of vehicles throughout the U.S. and across the globe.
The main method of transporting vehicles to the final country is a container shipping.
Once your vehicle finds its neighbors in a container (3-4 vehicles ready to be loaded), gets a place (booking) on a vessel, it's being loaded by the warehouse crew inside the container, being strapped and ready to go.
The container is being taken to the port by the driver before the cut-off date (the last date when a container can be returned to the port).
To book a shipping via container, please go to this page.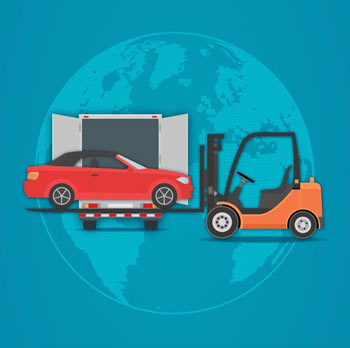 We keep you up to date on the status of your vehicle at every step of the shipping process. If an event occurs, such as a weather delay, we will send you a text or email alert, with a personal follow up by phone just to be sure you know the latest status of your vehicle.
Want to book a personal container? It's not so difficult! Here are a few tips before you click the button 'bid':
How many cars can fit in a container?

Can hold 4 small sedans
Ex: Toyota Corolla - Not Chrysler 300
---

Can hold 2 small trucks
Ex: Ford F150 - Not Ford F350
---

Can hold 3 small SUVs
Ex: Honda CRV - Not Ford Explorer
---
20ft container
CAN NOT HOLD MORE THAN 1 VEHICLE

Can hold any 1 SUV or Sedan

Can hold 1 pickup truck